Looking for a great Chanukkah gift?
There is no better gift than a hand-picked book that reminds you of someone you care about. Here at jGirls+ Magazine, we've rounded up eight of our favorite Jewish/feminist/teen books. One for each night, they'll shed a sweet light!
Salt & Honey: Jewish Teens on Feminism, Creativity, and Tradition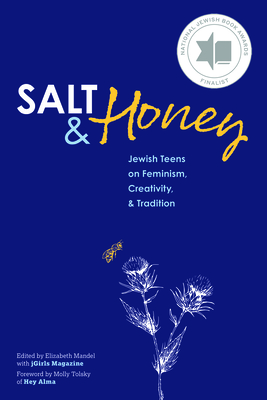 Why we love it: This is our very first anthology! Sixty-two teens contributed to 78 stunning works, including poetry, fiction, essays, photography, art, and more. They use their voices to touch on childhood, spirituality, sexuality, race, family, friends, and the world around us. The works in Salt & Honey were created by self-identifying Jewish girls, young women, transgender and nonbinary teens between the ages of thirteen and nineteen working as part of the jGirls Magazine collective.
We are writers, editors, photographers, and artists. We are multiethnic, multiracial, and multifaceted. We are nourished by the sweet honey and harsh salt of our lives. Although we are often misunderstood, we find strength within ourselves and our communities. We are the stories we tell.

This book elevates our stories as we honor the past, explore the present, and look toward the future. Through poetry, fiction, essays, and art, we make our voices heard.
The Color of Love: A Story by a Mixed-Race Jewish Girl by Marra B. Gad
Why we love it: This poignant memoir details Gad's experiences as an adopted, biracial Jewish woman navigating the complex relationship she has with a once-beloved racist great-aunt. After being estranged from her great-aunt for over 15 years, Gad rekindles their relationship when she is diagnosed with Alzheimer's. The book follows their journey to love and acceptance.
Running For Shelter: A True Story by Suzette Scheft
Why we love it:This book was written by 16-year-old Suzette Sheft, who grew up hearing about her grandmother's life during the Holocaust. Sheft chose to write this book to share her grandmother's story, a young-adult novel, that conjures what it felt like for a young person to live through this ghastly time: the terror, confusion, and world-shattering loss. It's about a teen, written by a teen, for teens and other young readers who may not have had a Holocaust survivor in their family passing on the stories, making sure they never forget.
Let There Be Light: The True Story of Her Creation by Lianna Finck
Why we love it: This captivating graphic novel turns the Torah on its head. Liana Finck retells familiar Bible stories from a feminist lens. While these stories are comfortingly familiar, Finck pulls back the curtain and asks us to reconsider what we've been taught, and even how we've been taught, about our central stories through humor, art, and affection.
Frankly Feminist: Short Stories by Jewish Women from Lilith Magazine
Why we love it: This collection is the blueprint of feminist, Jewish short stories! Collected from the very pages of Lilith Magazine over the last 50 years, these short stories showcase a multitude of topics: Persian Jews; a Biblical matriarch; an Ethiopian mother in modern Israel; suburban American teens; Eastern European academics; a sexual questioner; a Jew by choice; a new immigrant escaping her Lower East Side sweatshop; a Black Jewish marcher for justice; in Vichy France, a toddler's mother hiding out; and more.
Color Me In by Natasha Diaz
Why we love it: Natasha Diaz captures the complications of multiracial Jewish identities. Diaz is Brazilian, Liberian, and Jewish and her protagonist, 15-year-old Nevaeh, is Black and Jewish. Her story takes place in New York as Navaeh prepares for a belated bat mitzvah, as opposed to a Sweet Sixteen. Diaz does a remarkable job navigating huge questions about identity, privilege, and discrimination, while still holding space for the typical troubles of a teenager.
Purchase Color Me In
The Last Words We Said by Leah Scheier
Why we love it: Positive, young-adult, Orthodox books are hard to come by! This stunning YA novel follows a group of Orthodox Jewish teens as they not only cope with loss but heartbreak, first loves, and friendship, while navigating their religious identities. This mystery book is a must-read.
Purchase The Last Words We Said
One Hundred Saturdays: Stella Levi and the Search for a Lost World by Michael Frank
Why we love it: All too often, Sephardic experiences are absent from Holocaust education. Author Michael Frank brings Stella Levi's story to the light, after spending 100 Saturdays together during which Levi recounted her time in the Juderia, the Jewish neighborhood on the island of Rhodes to her survival of Auschwitz. Now, at 99 years old, Levi's story comes to life.
Purchase One Hundred Saturdays